Suspense by the River
Oregon author Christine Finlayson writes mystery/suspense novels set along the wicked waters of the Pacific Northwest. She's worked as a scientist, editor, and environmental educator, but has found her home in plotting fictional death and disaster.
When she's not at the computer, Christine loves to photograph all things weird and wild, explore hiking trails, bike paths, and beaches, and study forensics and police procedures. Her books include River of Broken Glass (coming in 2017) and Tip of a Bone (2013).
Visit her author page on Facebook.
Writer. Reader.
Christine is not only a writer, but an avid reader, enjoying all kinds of good writing–but especially mysteries, suspense, and thrillers. She's been reading since the age of four and writing for even longer (at least on the carpet…)

Her earliest novels were heavy on the pictures, light on text (writing is hard work, you know). Christine bound her stories in construction paper, designed and illustrated fancy covers–like "A Storry of Frog's" below—and priced them at 30 cents apiece. According to her mom, Christine went door-to-door around the block, selling her handmade books to elderly neighbors.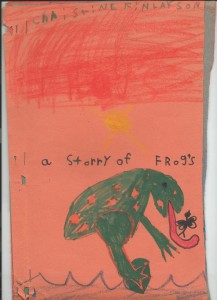 After years of writing and editing nonfiction, Christine has returned to fiction with her debut mystery novel. Tip of a Bone is set in one of her favorite spots, the windswept Oregon coast.
In late 2017, Christine will release a novel of suspense, set in Portland and featuring the Columbia Slough. Watch for River of Broken Glass this upcoming winter.
Photographer. Athlete. Nature Lover.
Before becoming an author, Christine worked as a barista, environmental consultant, water scientist, freelance writer & editor, and environmental educator.  In her spare time, she loves to explore the beaches, trails, and towns of the Pacific Northwest, photograph the beautiful and the bizarre, and and dip her triathlete toes into cold mountain lakes for a swim (really!).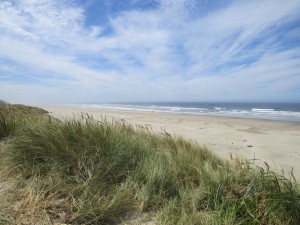 Nature inspired her early: Christine attended her first environmental protest in a baby backpack. Her mom's sign read, BLOOMS NOT FUMES. Her sister's sign said, I LIKE FLOWERS, and Christine's sign said, ME, TOO.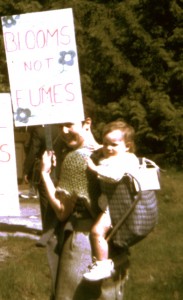 Christine belongs to Sisters in Crime and Willamette Writers.
Visit her author page on Facebook.
Photo Credit for Author's Photo: Meghann Street