The Brilliance of The Brilliant Moon

They say indie bookstores are dying . . . but what do they know?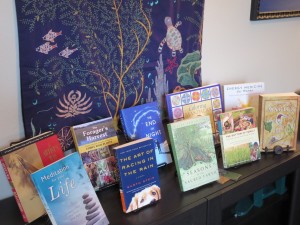 Update: The Brilliant Moon has moved to Shelton, Washington and is still going strong!
This March, I had the opportunity to visit a wonderful bookstore and tea/spice/art shop in tiny McCleary, Washington, a mill town (pop. 1,653) between Grays Harbor and Olympia.
I'd met The Brilliant Moon's owners—the mother and daughter team of Mary Schroeder and Lindy Cameron—last fall at the Pacific Northwest Booksellers Association trade show. We shared some great conversations and I was thrilled to learn they'd just opened a bookstore in May 2013. Despite the naysayers' gloom about indies, Mary and Lindy were ready to buck the tide.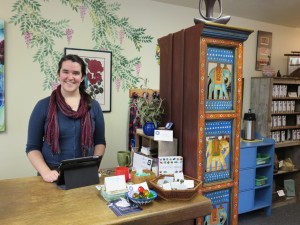 So when I was up in Washington teaching this month, I decided to drive over to McCleary to visit The Brilliant Moon. So glad I did!  Mary and Lindy's store is a fantastic mix of books, herbs, tea, and folk art from around the world. I came home with an awesome, funky bag from Nepal, several containers of spices, notecards, artwork—and best of all, HOPE.
(I didn't buy books, although Brilliant Moon has a great collection of what they call "illuminating books." Unfortunately, I have zero willpower when books are nearby—and I had a writing deadline the next day.)
But of all the things that came home with me, HOPE was the most magical.  Because Mary and Lindy had a dream to open a bookstore—and they made it happen. In fact, they've created a store that's much more than a place to shop. It's a community center and a cultural center.
Last fall, their Community Soup Night drew 46 participants. During my visit, several people stopped by for hot tea—including three young girls on bikes, dripping wet from the rain outside. They needed a place to warm up, and Lindy made them welcome.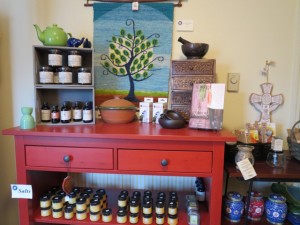 The store runs cooking classes and beekeeping workshops, gives travel talks, and provides an inviting place for the book group to meet. Lindy and Mary have brought in art from around the world, and offer an huge collection of tea and spices, beautifully arranged.
Walk into any bookstore these days, and it's easy to see that times are a' changing. But local shops aren't dying—they're adapting: adding espresso bars and pastry cases; offering intriguing community events to bring in customers; partnering with libraries; selling stationery, socks, games, kitchen ware, and even e-books (you can buy KOBO books through many stores, and they get a percentage).
But yes, The Brilliant Moon—like all indie stores—needs our support. So the next time you're driving through a small town or playing tourist on vacation, keep an eye out for the local bookshop. Stop in and introduce yourself. Buy something. You just may come home with more than you expected.
And, with luck, you'll leave something behind for the owners, too. It's called HOPE.
The Brilliant Moon is now located at 116 W Railroad Avenue, Suite 104 in Shelton, Washington.
— Christine Finlayson