You must be THIS tall to read Tip of a Bone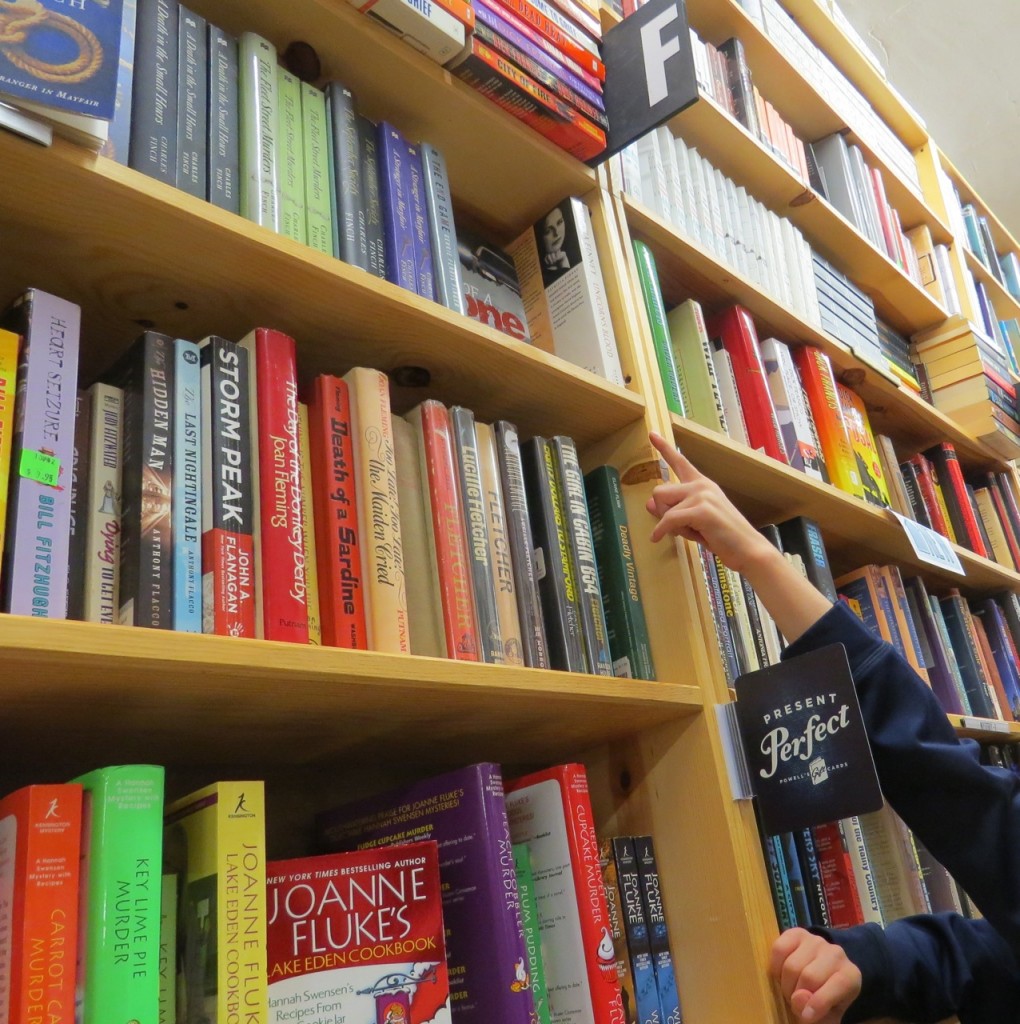 Our family headed to Powell's Books yesterday, with the goal of finding my brand-new mystery, Tip of a Bone, on their shelves. Like most bookstores, Powell's arranges books in alphabetical order by author, so Tip of a Bone was in the F's between The End Game and Unicorn's Blood. (Gold Room, Aisle 315, for those searching.)  

This play-no-favorites shelving system means that my novel sat way up in the nosebleeds, on the top shelf of books for sale. My daughter tried to reach it, but couldn't. Undeterred, she found a step stool, pulled it over, and then jumped up and down on the stool while hollering, "I can't see your name! I can't see your name!" I took a photograph of her pointing to my book . . . but needless to say, the camera and jumping girl attracted a bit of attention.
A young couple wandered over. When I explained I was the author, taking pictures of my daughter next to my novel, they were full of excitement and questions. "You're a writer? You have a book? When did it come out? How long did it take to write? What's it about? Where's it set?"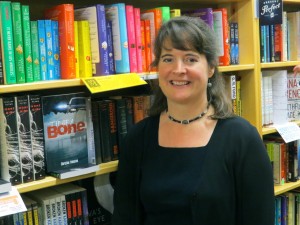 I answered.  When they asked to see the book, I pointed to the high shelf and they craned their necks upward. "Do you have to be tall to buy this book, or what?" the guy said, deadpan.
We all laughed.
Meanwhile another reader was wandering the mystery aisles, searching for a gift for his girlfriend. He overheard us talking about Tip of a Bone and drew closer. Then he climbed on the step stool and reached for a copy. "It sounds great. Got a pen to sign it?" he asked.
And so I did. One store. One sale.
One autograph.
Online sales and e-books can be great for reaching people around the world, but you've got to love the power of personal connection, one reader at a time. You only find stories like this in your local indie bookstore.
Go forth and support them!